Samcon ExCam XI410
's Werelds kleinste explosieveilige thermografische camera met spotzoeker
World`s smallest explosion proof spot-finder thermographic camera
Thermal imaging camera with auto-focus and infrared thermometer
The ExCam XI410 is a powerful thermographic camera with an integrated infrared thermometer and motor focus for use in potentially explosive areas. It delivers excellent infrared images (384x240p) of measurement objects in a temperature range from -20°C to 900°C. In addition, the thermal imaging camera has a software with extensive analysis functions (e.g. thermal analysis with hot and cold spots). The Excam XI410 can not only see where it is hot, it can also measure the temperature exactly. Like all cameras in the ExCam series, it is certified according to European regulations (ATEX) as well as international ones (IECEx). These certificates and further documents can be found in the download area.
Features:
Certification for Hazardous Areas (ATEX & IECEx)
Ultra-Compact and Leightweight Thermal Imaging Camera with integrated IR-Thermometer
Thermal Technology with 384x240p Resolution
Exact Temperature Measurement from -20°C to 900°C
Thermal Sensitivity NETD 0.08°C
Imager with Motor-Focus
Four Optics available
Autonomous Operation with Automatic Spot Finder
Automatic Calibration
Single-Cable-Solution (Ethernet, Power, I/O)
Protection Level of IP66/68 (IEC 60529)
Software with extensive Analysis-Functions
Rugged measuring thermal camera with ATEX and IECEx-certification
Besides the European regulations (ATEX), the ExCam series is also certified according to international regulations (IECEx). The housings' certification comprises ATEX group II (Gas and Dust) for zone 1, 2 as well as 21 and 22 including the explosion groups IIC / IIIC with a high risk of mechanical threat. In addition, certification can be extended at any time to cover different markets.
During the ExCam XI410's development stage the focus was clearly laid on security aspects as well as mechanical precision and high-quality stainless steels.
Excellent infrared images thanks to imager with auto hot spot finder and motor focus
The ExCam XI410 delivers excellent infrared images with a resolution of 382x240p at a frame rate of 25Hz. The automatic spot finder function ensures reliable temperature measurements even of moving objects. Since the sensor setting is automatic, the camera does not have to be readjusted. The motor focus can be set easily and conveniently via the software.
Choice of optics despite ultra-compact housing
With its length of just 171.2 mm and a diameter of only 47 mm, the ExCam XI410 is as small that you can mount it nearly everywhere.
A choice of optics makes it possible to measure objects at different distances; from close and standard distances to long distances. The user can choose between 53°x31°, 18°x12°, 80°x44° and 29×18° viewing angles.
The recommended smallest measurement object size for this thermal camera is 3×3 pixels. The following table shows a connection between the measurement object distance and the pixel size on the object level.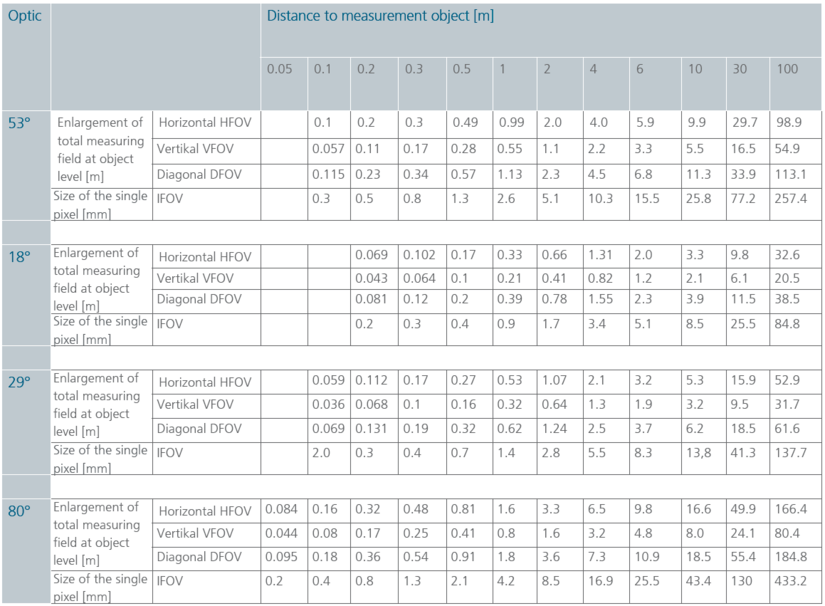 Media resistance and seals
Due to the high-quality materials used for the T07 Series, it is resistant against a lot of media. The particularly designed GYLON (PTFE) flat sealing does not only ensure the housing to be protected against strong jetwater (IP66), to be dustproof and watertight (IP68) but also supports the resistance towards several chemicals. The extremely robust and scratch-proof as well as impact resistant germanium glass fits perfectly into the high-quality materials of the housing body.
How does temperature measurement work?
The ExCam XI410 measuring IR camera uses an IR detector and a high quality lens. It combines the advantages of a pyrometer (infrared thermometer) with those of an IR camera. The temperature is measured without contact. Physically, the pyrometer is based on the evaluation of the electromagnetic radiation emitted by the measurement object, which is proportional to the object temperature. The electromagnetic radiation is focused by the input optics and converted into an electrical signal by a corresponding infrared detector. For more details please refer to the booklet basic principles of non-contact temperature measurement.
Advantages
Extreme quick measurement
Ultra long, continuous measuring ranges
No influence on the measuring object
Measurement on moving objects possible
 Measurement possible at high voltages and in aggressive media
What are typical applications?
For which areas of application are the XI thermal imaging cameras suitable?
The Spot-Finder temperature measuring device can be used as an IR camera and as a thermometer. Whether for monitoring large systems, liquid basins, tanks or to monitor and regulate the process temperature of various production steps in industrial systems; whether for quality assurance, cost optimization or fire prevention; whether in electronics, aerospace engineering, the pharmaceutical, plastics, metal or chemical industry;
Our ExCam XI thermal imaging cameras are suitable for a wide range of applications. They are perfect for condition monitoring of machines and systems as well as for safety-relevant applications in the field of preventive fire protection.
The ExCam XI410 delivers excellent infrared images of objects in a temperature range from -20°C to 900°C.
Suitable for security relevant applications
Is the camera also suitable for security-related applications? What happens if the network connection fails? Is a complete and reliable alarm then guaranteed in the event of a detected problem?
Yes! Even if the PoE connection is interrupted, the camera can work fully autonomously.
PIX Connect -analysis software
Detailed image analyses can be carried out with the thermal analysis software PIX Connect.There are no additional costs or license restrictions for the extensive analysis software optris PIX Connect. It is supplied with the camera and is compatible with Windows 7, 8 and 10. It also includes two software development kits (open source) for Windows and Linux. The user interface of the modern software is intuitive and can be individually adjusted to your specific application. There are several different layouts, various language options, measurement fields can be created as desired, maximum, minimum and mean values can be set. By setting the emissivity in different measuring fields, different material surfaces can also be measured with one camera. The measured values can be output as an image, diagram or digital display or saved for further analysis, video sequences can be saved with all temperature information for each individual pixel. For further information on the built-in module or the software, please visit the optris homepage.
Easy installation & Power over Ethernet (PoE)
A special feature of the ExCam XI410 is that it has an Ethernet interface. So it can be conveniently supplied with power via PoE. Data and power supply are routed in a single cable. This means that only a PoE switch or a PoE midspan is required for the connection in the safe area. The cameras are powered via the network, so there is no need to install a separate power supply line, which is expensive.