T-WNB-3D-240
Watt node 208/240 VAC 3-phase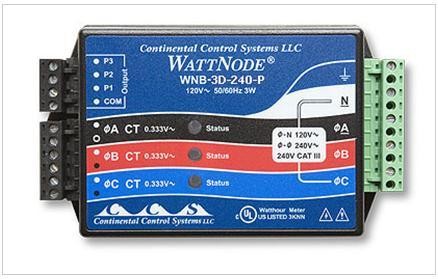 The WattNode provides accurate measurement at low cost to meet your needs for sub-metering, net-metering, energy management, and performance contracting applications. This WattNode Delta-connection kWh Transducer works with Magnelab AC Current Transformers and a Pulse Input Adapter to provide True RMS kilowatt hours of energy used, even for loads with non-sinusoidal waveforms. Because these sensors tie directly into the line, they should be used only by qualified personnel. This model supports a 3-phase Delta-connection of 208/240 VAC.
Environment: Indoor environments
Measurements: Kilowatt Hours (kWh)
Range: 120V - 240V
Accuracy: mn:0.45% of reading + 0.05% FS through 25th harmonic (dependent on CT used and line variation accuracy could be 1.5% to 4% of reading)
Compatible Data Loggers: U30-NRC-SYS-B, UX120-017, UX120-017M, UX90-001, UX90-001M, H21-002 , H22-001, U30-NRC, U30-GSM, U30-WIF, U30-ETH, ZW-005, ZW-008
Compatible Sensors: S-UCC-M006, S-UCC-M001, T-MAG-0400-05, T-MAG-0400-10, T-MAG-0400-20, T-MAG-0400-50, T-MAG-0400-75
Additional information: Measures 1, 2, or 3 phases in 2, 3, or 4 wire configurations.
Pulse output - Compatible with pulse input logger models.
CE Mark can be installed throughout the EU.
Optional with calibration
Read more