Ovaport Web Service – Nokeval
Online monitoring system for data acquisition and management of measurement data received by the various connectable transmitters and sensors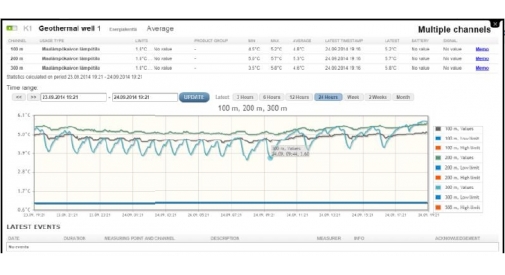 The Ovaport web service is a unique, independent and complete service for data acquisition and management. The service can be used for recording, documentation and alarming of measured values, but also as task planning and even as a manual for procedures and instructions. Ovaport registers and displays trends of measurement data. Almost any type of sensor can be connected to this service and provides insight into your measurement data immediately after connection.
This data is stored for a minimum of 2 years on an external server with a second backup server. In addition, alarms are displayed in the event of deviations and alarms are forwarded via email and / or SMS. The determination of the measurement limits (minimums and maximums) can also be determined independently and implemented in the system, for optimal regulation of your sensors. Furthermore, tasks and work schedules such as cleaning, checks, maintenance can be linked to measuring points.
With Ovaport, the registration of your measurement data is fully automatic, so this saves you the time and effort of performing all kinds of manual checks every day. You will also be warned in time in case of deviations so that you can intervene quickly. With the task and manual function, additional activities are also registered. All this is logged and can be viewed anywhere, anytime. This data can be retrieved at any time via Excel and / or PDF files, so that you can keep track of your reports or make analyzes based on your registered measurement data anywhere and anytime.
You can log in with any web browser via unique login details, and all necessary settings can be set via the software. There are different user levels and everything is stored and can be found in a precise audit trail.
Wireless data transfer: 433MHz or private LoRa
Transmitters: internal humidity, temperature, CO2, particle and VOC sensor
Transmitters: external temperature sensors, including PT100 and thermocouples
Multifunction transmitters: analog process connections, eg 4 ... 20mA and 0..10V
Handheld devices: periodic checks of temperature and surface hygiene
Receivers and gateways: range up to 10 kilometers when using LoRa transmitters
Direct connection to other systems: via Modbus or analog process connection
Link to Ova Web Service: d.m.v. online gateway, via LAN or GPRS
Software: Software as a Service (SaaS)
Furnishing: can be assembled in a modular way
License: several options determine the license price
Data protection: European GDPR legislation (Regulation (EU) 2016/679)
Reliability rating: 99.5%
Components: Back-end system, Front-end system, Ova Mobile Application
Optional with calibration
Read more