FT10-RT433-ES – Nokeval
The FT10-RT433-ES measures temperature with an external PT100/PT1000 sensor connected to a connector in the measurement module of this transmitter. The PT100 sensor is not included in the scope of supply, but any 4-wire PT100 can be used.
FT10-RT433-ES wireless transmitter
An external 4-wire RTD cable PT100 or PT1000 sensor can be connected to the FT10-RT433-ES transmitter. This model contains an internal connection block to connect such a sensor. This is ideal for measurements at higher temperatures (ovens/stoves), where placement of the transmitter at the measuring point is not an option. Also think of refrigerator or freezer applications, where the PT100 sensor will be mounted into the fridge/freezer and can be placed in a glycol bottle to simulate the product temperature.
The FT10-RT433-ES transmitter consists of a radio part (the antenna) and a measuring module, connect a PT100 sensor to create temperature measurements. These wireless instruments communicate with each other via a MHz signal. The battery-powered 10 MW transmitters have a range in open space of several kilometres and the practical range indoors is approximately 30 to 300 meters (depending on the amount of steel and glass in a building). The modulation technique tolerates other traffic on the same band very well.
Please note, the FT10 product series from Nokeval has now been replaced by the Flex product series (FT10-series is however still available). These are comparable in terms of technology, construction of the transmitter and components. However, the Flex transmitters communicate wirelessly with each other via LoRa (stands for: Long Range signal), this is wireless communication with noise suppression/cancelling. The FT10 series communicates at 433,92 MHz without noise reduction and therefore the practical range distances are a little shorter.
Inputs: PT100/PT1000
Accuracy: < 0,2°C
Input channels: 1
Measuring range: -200...+600°C (depends on connected sensor type)
Transmission interval: 5 s... 5 min
Coverage range: open space up to 300 m
Output channels: 1
Outputs: 433 MHz radio signal
Connector model: M12
Programming: MekuWin or 6790
Supply voltage: battery: 1.5 V AA alkaline
Battery life: over 3 years (80 s transmission interval)
Maximum ambient temperature of the transmitter: 60°C
Minimum ambient temperature of the transmitter: -20 °C
Case material: plastic (PC and ABS+PC)
Protection class: IP65
Approvals: CE and EN13485
Cable glands: M12 connector, 4 pole, female
Optional with calibration
Read more
Request more information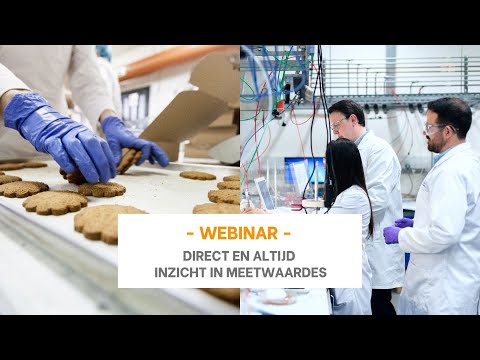 Webinar monitoring (NL)
Nokeval – Ovaport monitoring system webinar, especially for the food industry and laboratories.