DAB 100 3 – Kern
Moisture analyser with user-friendly graphics display and 15 memories for drying programs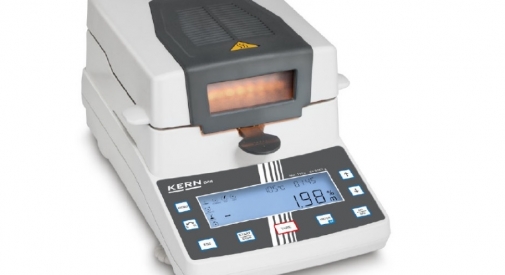 DAB 100-3 is a very fast and accurate moisture balance to calculate your total moisture percentage. Easy to operate and widely applicable. The drying balance allows you to select different drying levels that suit your product.
Do you want to calculate the free water? take a look at our Aw meters
Sensor: DMS load cell and Halogen quartz glass heater 400 W
Measurement range: 0-100 %
Reproducibility: 1 mg
Maximum weighing range: Max 110 gram
Temperature range: 40 °C- 199 °C in steps up to 1°C
Applications: laboratoria, production, R&D, pharmaceutical industry, seed breeding, petfood, food industry.
Other specifications:
Sample plates 50 pieces, Observation window above the sample, useful during initial setting
Internal memory for automatic sequence of 15 complete drying processesand 5 drying processes carried out
The last value measured remains on the display until it is replaced by a new measurement
Optional with calibration
Read more