Optris CT 4M sensor – Infrared
Optris CT 4M sensor for metal applications at low temperatures and/or high speeds.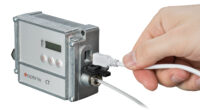 The fast exposure time of only 90 μs makes the Optris CT 4M infrared sensor the perfect sensor for measurements in fast-paced processes. By measuring in a short wavelength and a measuring range of 0°C to 500°C, this sensor is suitable for measuring metals, metal oxides, ceramics or surfaces of which the emissivity is not known or is constantly changing. The electronics box is equipped with a display and a selection menu with which different analogue outputs can be selected. Various digital interfaces are also available. For more information about the Optris CT 4M, please contact us.
Also nice, read here our blogs about Infrared.
Spectral range: 2.2 µm - 6.0 µm
Temperature range: 0°C to 500°C
Optical resolution: 10:1
Smallest measurement spot (CF lens): 5 mm @ 50 mm
Ambient temperature: 0 °C ... 70 °C (measuring head)
0 °C ... 70 °C (electronics)
Outputs/analogue: 0/4 - 20 mA, 0 - 5/10 V, thermocouple J, K, alarm output
Outputs/digital: USB, RS232, RS485, CAN, Profibus DP, Ethernet (optional)
Optional with calibration
Read more