Lumitester Smart – Kikkoman
Efficient ATP meter with various swabs, read the measurement in your app/PC within 10 seconds.
You can use this ATP meter to monitor hygiene and quality or to perform rapid microbiological tests.
Easy to use and fast measurement results for a production environment, lab or on your end product.
Storage of the measurement results and reading in the supplied software.
Features:
Hygiene monitoring in three easy steps
Visualize the data with App
Access from anywhere with cloud storage
Measurement time: 10 sec.
Data output: RLU (Relative Light Unit)
Power: 2 size AA alkaline batteries, or 2 size AA Ni-MH rechargeable batteries
Size/Weight: 65 × 175 × 32 mm / 255 g (Except batteries)
Accessories: 2 size AA alkaline batteries,Cleaning brush,USB,cable, Strap,Quick manual
Request more information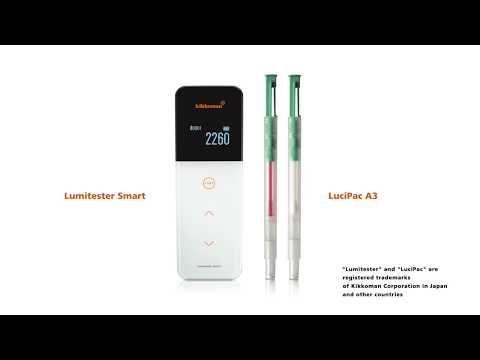 Quick Start Guide
Lumitester Smart & App - Quick Start Guide - English