InTemp CX703x – Onset
InTemp wireless cryogenic temperature data logger, Bluetooth Low Energy (BLE) multiple use transport data logger compatible with the free InTemp mobile apps that records temperature data for a maximum of up to 365 days.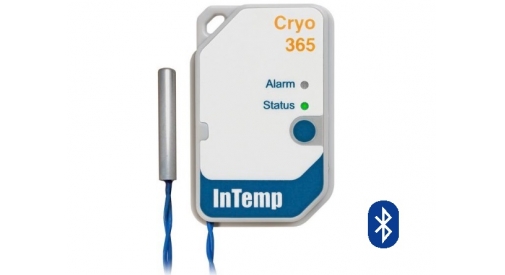 InTemp CX703-UN
The built-in external temperature sensor with 1,5 meters of cable measures temperatures down to -200°C and includes a protective sleeve to prevent accidental cut of the cable and a clip for a secure mounting.
Using the InTemp app on your mobile phone, tablet or computer, you can easily configure the CX703 with one of several pre-set configurations or set up a custom configuration. The data logger has a built-in alarm to warn you of temperature fluctuations. Log reports can be quickly downloaded and uploaded to an InTempConnect account (web application), where you can analyse and export the data as needed. You can use InTempConnect to collect travel information to drive your supply chain analysis. During logger deployments, quickly assign travel information such as destination, transportation product, and/or shipping methods from your mobile device. The administrators or responsible can view filtered travel and supply chain data and view relevant KPI reports directly or at scheduled intervals.
In addition to the InTemp app, you can make the most of the data accessibility of this transport data logger by letting your transporter work with the also free InTempVerify mobile app. This allows anyone, anywhere and anytime to download the measured values ​​from the InTemp data loggers. Simply program your InTemp data loggers so that they are recognized by InTempVerify and with just the push of a button anyone in the world can download data with the app and send it directly to your InTempConnect account. In addition, users can view alarms and real-time data while within range of the loggers and make critical decisions on the spot. You do not have to connect the data logger separately to a computer or certain holder, you do not have to manually send data and reports, and you also do not have to worry about getting crucial data to the right people on time.
This type of data logger complies with the IATA standard for battery transport. In addition, it is compact and super light in weight, making it ideal for sending medicines, among other things. You do not necessarily have to physically open the containers to access data, because of the Bluetooth connection. It ensures secure data transfer through the underlying encrypted technology.
This data logger is suitable for cold chain environments/applications.
External sensor temperature range: -95° to 50°C
Accuracy: ±1,5°C from -200° to -90°C, ±1,0°C from -90° to -10°C, ±0,5°C from -10° to 50°C
Logger working range: -30° to 50°C
Type: multiple use
Maximum duration after initialization: 365 days
Shelf life: up to 1 year
Logging interval times: 1 second to 18 hours
Battery: CR2450 3V lithium battery, not replaceable
Memory: 16.000 readings
Cable length: 1,5 meters
Dimensions: 6,9 x 4,5 x 1,1 cm
Weight: 25,5 grams
Additional information: IP65, Bluetooth; range up to 30,5 meters