HT85T – Hydromette – Gann
Building and Wood moisture meter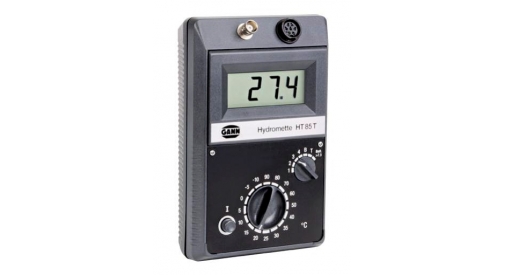 The Hydromette HT 85 T is a triple measuring instrument for wood moisture, structural moisture and temperature. It is designed for precise measurements of sawn timber (up to 180 mm thick), particleboards, veneers and hardened building materials.
Due to its large wood moisture measuring range it is perfectly applicable for singular measurements on the timber yard for both and after processing wood.
In order to monitor the kiln drying of timber, it can be combined with any disired number of MC, EMC and temperature in-kiln measuring points.
Measurement range:
Wood:
4 - 100 % moisture content (m.c.)
Structural materials:
0 - 80 digits structural moisture (conversion of moisture depending on the building material)
Temperature:
Automatic compensation of wood temperature in the range of -10 - 90C
-50 - 199,9 C with mit Pt 100 probes in 4-conductor technology.
Applications: interior constructors, parquet layers, woodworking industries, artificial kiln drying, construction businesses and architects.
Other specifications:
Handy quick moisture meter for fast single and series measurements
Direct displaying of wood moisture in percent via digital LCD, resolution: 0.1 % m.c. or 0.1 digits resp.
Four-step wood species selector for an automatic correction of measured values for over 300 species of wood probes in 4-conductor technology.
Fully automatic instrument setting
Power supply by 9 V dry cell or rechargeable battery (optional equipment)
Dimensions: 180 L x 115 W x 53 mm H, weight approx. 370 g.