Hobo U30-NRC – Onset
USB weather station data logger (15 channels)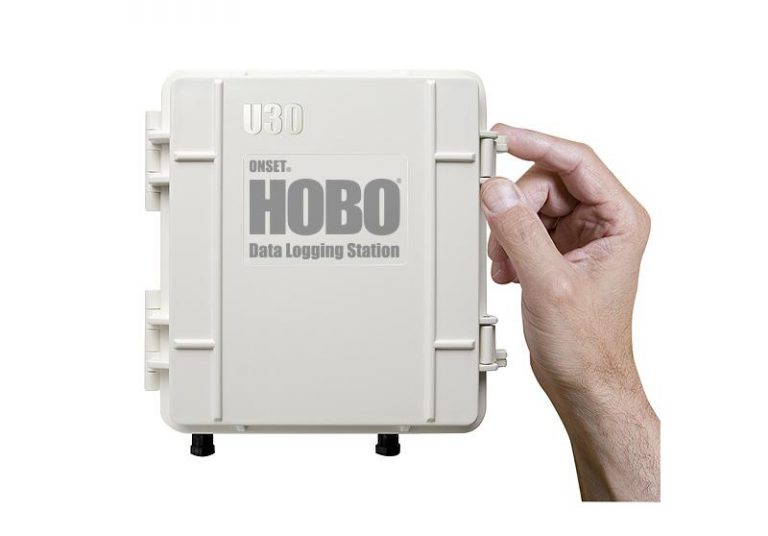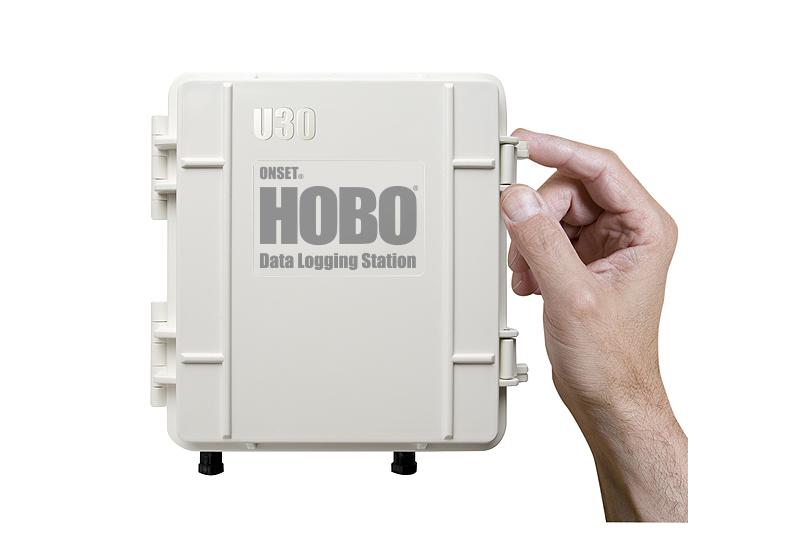 This rugged weather station is Onset's most durable outdoor environmental monitoring solution. Users can easily configure the HOBO U30-NRC Weather Station to fit their application needs. Use up to 15 channels to collect environmental data and then upload to HOBOware software for analysis. All electronics are housed within a rugged double-weatherproof, tamper-proof enclosure. The setup is quick and easy with plug-and-play sensors and you can offload via USB optional analog inputs with sensor excitation. This weather station includes relay that can be activated on user-defined alarm conditions.
This data logger operates in indoor and outdoor environments. The data logger supports the following measurements: 4-20mA, AC Current, AC Voltage, Air Velocity, Amp Hour (Ah), Amps (A), Barometric Pressure, Carbon Dioxide, Compressed Air Flow, DC Current, DC Voltage, Dew Point, Differential Pressure, Gauge Pressure, Kilowatt Hours (kWh), Kilowatts (kW), Leaf Wetness, Light Intensity, PAR, Power Factor (PF), Pulse Input, Rainfall, Relative Humidity, Soil Moisture, Solar Radiation, Temperature, Volt-Amp Reactive, Volt-Amp Reactive hour, Volt-Amps (VA), Volts (V), Water Flow, Water Level, Watt Hours (Wh), Watts (W) and Wind.
Normal operating range: -20°C to 40°C
Sensor inputs: 5 standard: option to expand to 10
Smart sensor compatibility: compatible with most Onset smart sensors, except for the S-BPA, S-TMA and S-THA
Data channels: maximum of 15 (some sensors use more than one data channel)
Alarm output relay: Can be configured to be activated, deactivated or pulsed on user-defined sensor alarms. The relay can be configured as normally open or normally closed, and is rated for 30 V and 1 amp max.
Local communication: full speed USB via USB mini-B connector
Data storage memory: nonvolatile flash data storage, 512K bytes local storage
Memory modes: stop when full, wrap around when full
Logging interval: 1 second to 18 hours, user-specified interval
Battery type: 4 Volt, 4,5 AHr or 10 AHr, Rechargeable sealed lead-acid
Rechargeable battery service life: typical 3–5 years depending upon conditions of use. Operation within the extended operating range (but outside the normal range) will reduce battery service life.
Environmental rating: weatherproof enclosure, tested to NEMA 6. (requires proper installation of cable channel system)
Sensor network cable length: 100 meters maximum
External power: external power is required. The system optionally accepts the following Onset solar panels:SOLAR-1.2W, SOLAR-3W, SOLAR-6W. Alternatively it accepts an AC power adapter: AC-U30
Optional with calibration
Read more