Hobo RXW-UCC-xxx – Onset
HOBOnet pulse input sensor, compatible with electronic switch closures such as FET or open-collector output, or CMOS-level logic signals for a complete system requires at least one Hobo RX3000 monitoring station with a HOBOnet wireless manager (RXMOD-RXW-xxx) or one Hobo MicroRX station (which has an integrated HOBOnet wireless manager).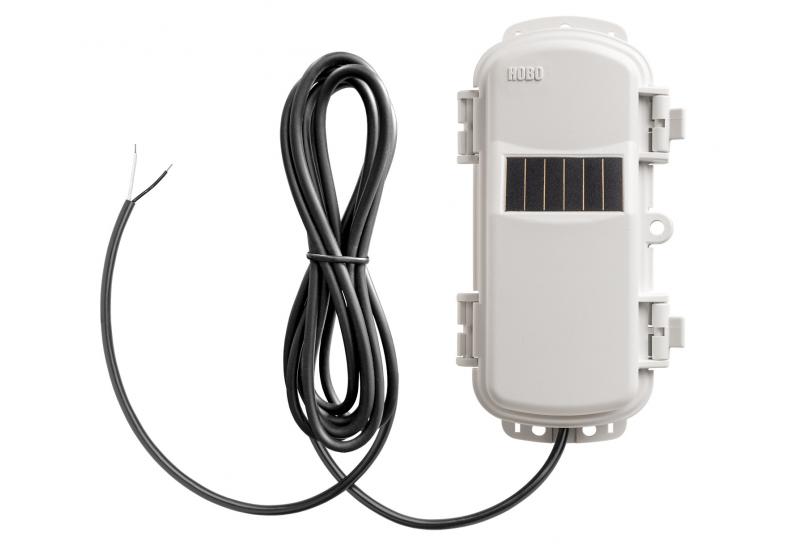 The HOBOnet wireless pulse input sensor connects to sensors with a pulse output. This sensor is compatible with electronic switch closures, such as FET or open-collector outputs, or CMOS-level logic signals. The HOBOnet wireless sensors communicate the data directly to the Hobo RX3000 or the Hobo MicroRX station, or pass data through other wireless sensors back to the central station. They are preconfigured and ready to deploy. The data can be accessed through the HOBOlink web service, Onset's innovative cloud-based software platform.
This sensor has a maximum input frequency 120 Hz (120 pulses per second) with an electronic solid-state switch closure or CMOS-level digital output. It contains a 900 MHz wireless mesh self-healing technology and has a wireless range of 450 to 600 meter (up to five hops). You can configure up to 50 wireless sensors or 336 data channels per Hobo RX station and with a simple button-push you can join the HOBOnet wireless network.
It has an onboard memory to ensure no data loss and it is powered by rechargeable AA batteries and a built-in solar panel.
This sensor operates in indoor and outdoor environments and the RXW-UCC-xxx sensor supports the following measurement: pulse input.
Measurement input frequency: 120 Hz (120 pulses per second)
Measurement range: 0-65.533 pulses per logging interval
Resolution: 1 pulse
Maximum input voltage: 3,6 Volt
Operating temperature range: -25° to 60°C with rechargeable batteries, -40 to 70°C with lithium batteries
Transmission range: up to 457,2 meter line of sight at 1,8 meters high
Maximum number of motes: up to 50 wireless sensors or 336 data channels per one Hobo RX station
Logging rate: 1 minute to 18 hours
Number of channels: 2
Battery type: two AA 1,2 Volt rechargeable NiMH batteries powered by built-in solar panel or two AA 1,5 Volt lithium batteries for operating conditions of -40 to 70°C
Battery life: with NiMH batteries: 3-5 years when operated in the temperature range -20° to 40°C, with lithium batteries: 1 year
Memory: 16 MB
Cable length: 6,5 meters
Environmental rating: mote: IP67, NEMA 6
Optional with calibration
Read more