HOBO MX2303 – Onset
Data logger with two external temperature sensors, to be used with the HOBOconnect app or connectable to the MX gateway via Bluetooth
HOBO MX2303 data logger
The HOBO MX2303 is a weatherproof data logger with two external temperature sensors. Leveraging Bluetooth Low Energy, the logger enables easy, fast setup and data download directly from your mobile device with Onset's free HOBOconnect app. The MX2303 provides high-accuracy measurements in harsh outdoor environments. You can add the MX gateway for remote access to your data in Onset's cloud-based HOBOlink software.
It has a convenient wireless setup and download via Bluetooth Low Energy (30 meters range). You can retrieve data in hard-to-reach locations and the visual alarms alert you to out-of-range conditions. It has a compact, weatherproof housing with built-in mounting.
You can view the current data in real time with Onset's free HOBOconnect app and also share the downloaded data easily from your mobile device.
It has an accuracy of +/- 0,2°C.
This data logger operates in indoor and outdoor environments and the MX2303 data logger supports the following measurements: soil temperature and temperature.
Range MX2303 external temperature sensor: -40 to 100°C
Accuracy: ±0,25°C from -40 to 0°C: ±0,2°C from 0 to 70°C: ±0.25°C from 70 to 100°C
Drift: <0,01°C per year
Operating range: -40° to 70°C
Transmission range: approximately 30,5 m in line-of-sight
Wireless data standard: Bluetooth Low Energy (Bluetooth Smart)
Logging rate: 1 second to 18 hours
Logging modes: fixed interval (normal, statistics) or burst
Memory modes: wrap when full or stop when full
Start modes: immediate, push button, date & time, or next interval
Stop modes: when memory full, push button, date & time, or after a set logging period
Battery type: 2/3 AA 3,6 Volt lithium, user replaceable
Battery life: 2 years
Memory: 128 KB (63.488 measurements)
Environmental rating: NEMA 6 and IP67
CE compliant: the CE Marking identifies this product as complying with all relevant directives in the European Union (EU).
Optional with calibration
Read more
Request more information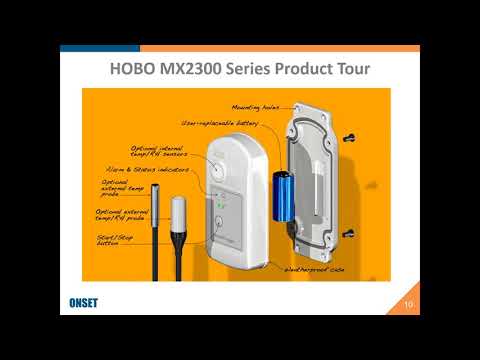 Webinar: HOBO MX2300
Webinar: HOBO MX2300 temperature and relative humidity data loggers