Hobo MX2203 – Onset
HOBO TidbiT MX water temperature data logger, depths measurements up to 120 meters. To be used with the HOBOconnect app or connectable to the MX gateway via Bluetooth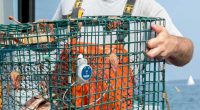 The Hobo MX2203 TidbiT waterproof temperature logger leverages the power of Bluetooth Low Energy (BLE) to deliver high-accuracy temperature measurements straight to your mobile device with Onset's free HOBOconnect app. Designed for durability, this rugged waterproof logger is ideal for long-term deployments in streams, lakes, and oceans. The Hobo MX2203 also provides the additional feature to detect and record the presence of water which is ideal for monitoring intermittent water applications. Data collection in the field has never been easier.
You can add the MX Gateway for remote access to your data in Onset's cloud-based HOBOlink software and for reading out the data loggers automatically. It has a convenient wireless setup and download via Bluetooth Low Energy (BLE) with a large memory storage of 96.000 measurements. The data logger is waterproof up to 120 meters and the water detection feature records when logger is in and out of the water.
The waterproof boot protects the logger during deployment and the LED alarm notifies you when temperature exceeds set threshold. It has a battery life extension feature and works with Onset's free HOBOconnect app
This data logger operates in indoor, outdoor and water environments and the MX2204 data logger supports the following measurements: soil temperature, temperature and water temperature.
Temperature sensor range: -20° to 70°C, in air: -20° to 50°C
Accuracy: ±0.25°C from -20° to 0°C and ±0.2°C from 0° to 70°C
Drift: <0,1°C per year
Transmission range: approximately 30,5 meters: line-of-sight
Wireless data standard: Bluetooth Smart (Bluetooth Low Energy, Bluetooth 4.0)
Logger operating range: -20° to 70°C
Logging Rate: 1 second to 18 hours
Waterproof: to 122 meters
Memory: 96.000 measurements
Battery: CR2477 3V lithium, user replaceable
Battery life: 3 years, typical at 25°C with logging interval of 1 minute and Bluetooth Always On in software (faster logging intervals and statistics sampling intervals, burst logging, remaining connected with the app, excessive downloads and paging may impact battery life).
Wetted materials: epoxy case, Santoprene (TPE) boot
Environmental rating: IP68
Optional with calibration
Read more