HOBO MX1104 – Onset
Data logger with internal sensors for temperature, relative humidity, light and 1 multi-channel input (4-20 mA/0-2,5 V/0-5 V/0-10 V/0-24 V), which measures and transmits data wirelessly from a variety of sensors to your mobile device via Bluetooth technology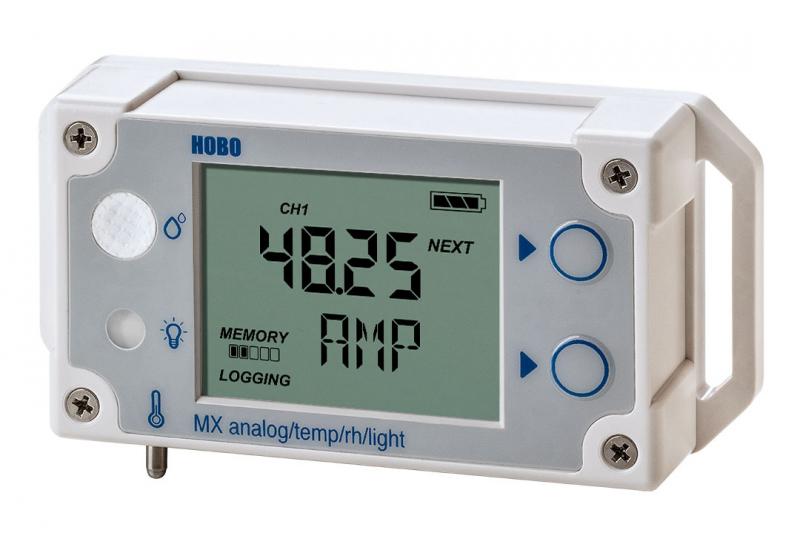 The MX1104 wireless data logger can be used with your mobile device or Windows computer and the free HOBOconnect app to access data, at any time over a 30 metres range via Bluetooth Low Energy (BLE) technology. You can configure the logger, read out the data, view the data in graphs, check the operational status of loggers, configure alarm notifications and share the data files – all with no dedicated equipment beyond a mobile device. If the data logger is used with a MX gateway, you can remotely access your data in the cloud-based HOBOlink software.
This data logger has a 16-bit resolution for highly-accurate measurements and can store up to 1,9 million measurements for longer deployments between offloads. You can use the data logger with new self-describing sensors with intelligent configuration for fast deployment and it is compatible with existing sensors for a wide range of indoor monitoring. An audible and/or visual LCD-screen alarm will notify you if a sensor becomes unplugged or a reading exceeds set thresholds.
This is a data logger which operates in an indoor environment and the MX1104 data logger supports the following measurements: 4-20mA, AC current, AC voltage, air velocity, carbon dioxide, compressed air flow, DC current, DC voltage, dew point, differential pressure, gauge pressure, kilowatts (kW), light intensity, relative humidity and temperature.
Temperature sensor range: -20° to 70°C
Temperature sensor accuracy: ±0,20°C from 0° to 50°C
RH sensor range: 0% to 100% at -20° to 70°C
RH sensor accuracy: ±2,5% from 10% to 90% (typical) to a maximum of ±3,5% at 25°C; below 10% and above 90% ±5% typical
Light sensor range: 0 to 167.731 lux
Light sensor accuracy: ±10% typical for direct sunlight
Logger to use with analog adapters: SD-MA-420/CABLE-4-20mA, SD-VOLT-2.5/CABLE-2.5-STEREO, SD-VOLT-05/CABLE-ADAP5, SD-VOLT-10/CABLE-ADAP10, SD-VOLT-24/CABLE-ADAP24
Operating range: -20° to 70°C
Transmission range: approximately 30,5 m (line-of-sight)
Wireless data standard: Bluetooth Low Energy (Bluetooth Smart)
Logging rate: 1 second to 18 hours
Battery type: 2x AAA 1,5 V alkaline batteries, user replaceable
Battery life: 1 year, typical with logging interval of 1 minute and Bluetooth Always On enabled
Memory: 4 MB (1,9 million measurements, maximum)
Full memory download time: approximately 4 to 15 minutes depending on the mobile device; may take longer the further the device is from the logger
LCD: LCD is visible from 0° to 50°C; the LCD may react slowly or go blank in temperatures outside this range
Size: 11,28 x 5,41 x 2,92 cm
Environmental rating: IP54