BTM-4208SD – Lutron
12 channel temperature data logger, incl. SD-card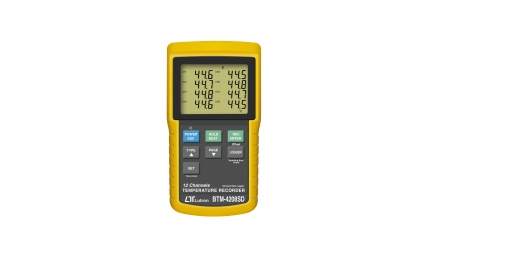 BTM-4208SD thermocouple
The BTM-4208SD is a 12 channel "real-time" temperature logger that uses an Micro SD-card to store the data. Additional software is not required for use. Thermocouple types J, K, T, E, R and S are all compatible with this data logger and you can choose an SD card with a storage memory between 1 GB and 16 GB. This datalogger has an RS232 or USB computer connection option. The data logger must be powered by alkaline or heavy duty DC 1,5 V batteries (UM3, AA) 8 pieces, or equivalent. In addition, this data logger has a DC 9V adapter input, an AC/DC power adapter is optionally available.
It features for a compact and very robust housing.
Sensor type: J / K / T / E / R / S thermocouple
Logger: automatic & manual
Log time: 1 to 3600 seconds.
Display values: 1 degree / 0.1 degree
Time display: year, month, date, hour, minute and seconds
Memory card: 1 GB to 16 GB.
Other features: large LCD with backlight, data storage,
RS232 / USB computer interface.
Options: type K temperature sensor: TP-01, TP-02A, TP-03, TP-04
Optional with calibration
Read more