ABP 100-4M – Kern
Highly accurate analytical balance - single cell weighing principle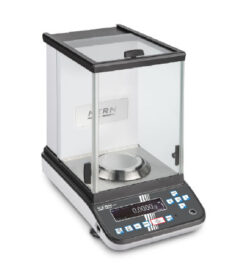 Very accurate scale with single cell weighing principle, so you will not get any deviations throughout the year. Automatic calibration with data logger, connection to printer en PC.
Measurement range: 120 mg. Max. 200 mg min.
Readability: 0,100 mg
Reproducibility: 0,100 mg
Other specifications: Bright OLED display with very stable viewing angle for optimum readability from different viewing directions. Data interfaces RS-232 and USB for transferring weighing data to PC, tablet, printer and for connecting external devices such as barcode scanners (option), numeric keypads (option). Multifunctional weighing platform included in the scope of delivery, minimizes the influence of air currents in the weighing area and thus significantly improves set-up time and repeatability.
Optional with calibration
Read more