Profi check advanced – Ludwig
Rugged stainless steel handheld moisture meter for fast and accurate measurement results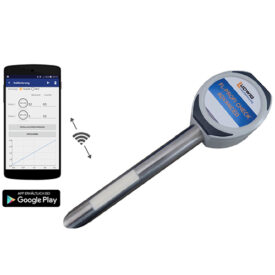 Rugged handheld moisture meter for fast and accurate measurement results. Insertion probe for big bags – inline possibilities. Easy to read via computer or telephone.
Sensor: Microwave / 433 MHz
Measurement range:
Operating Temperatuur: 0 - 80° C
Accuracy: approx. ±0,3% material depending
Sample time: ± 10 sec.
Other specifications: Measured value transmittance by suitable for industrial use WIRELESS technology, Cover Stainless Steel V2A / Die casting cover / Sensor measuring surface made of special ceramics, IP 67, Weight 1,6 kg, Dimensions Length: 345mm, ⵁ of measuring bar: 30mm, Electronic cover: L: 110mm, W: 97mm, D : 53mm, Power supply / Power consumption 3,7V/DC by battery / 0,08 Watt, Operation time per battery charge up to 8 hours continuous operation, Operation System ANDROID 4.1 or higher WINDOWS -7-8-10.
Optional with calibration
Read more