EDIP TFT displays
Easy programable and fast mounting! That's where the EDIP name stands for. With pins (1/10'' pitch) for direct soldering into a PCB or standard socket, easy programable via SPI, I2C or RS232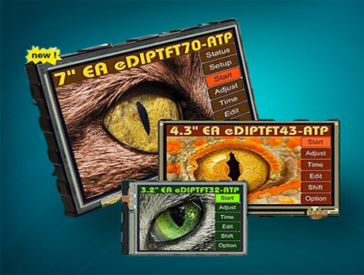 The EA eDIP series of displays are the world's first displays with integrated intelligence. In addition to a variety of integrated fonts that can be used with pixel accuracy, they offer a whole range of sophisticated graphics functions.
The displays are ready for operation immediately with an operating voltage of 5V. They are controlled via one of the 3 integrated interfaces: RS-232, SPI or I2C. The displays are "programmed" by means of high-level language-type graphics commands. There is no longer any need for the time-consuming programming of character sets and graphics routines. The ease of use of this display with its touch panel dramatically reduces development times.
Data interface: I2C, RS-232, RS-485, SPI
Supply voltage: 5 volt
Operating temperature: -20 to +70 degrees
Size in inch: Available in 3.2'' to 7'' inch.
Power consumption with backlight (mA): 180
Power consumption without backlight (mA): 80